Radiant Heat System Professional Design Services
What to Look for When Comparing Radiant Heat Providers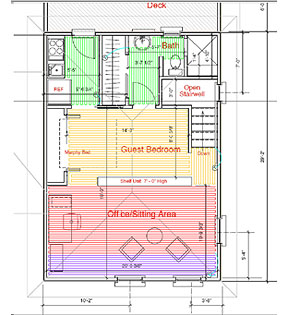 When searching for radiant heat solutions, you can find an abundance of products online. However, make sure you look at more than just the price of the products. Some manufacturers and suppliers may claim to offer "the best" radiant heat system, but the reality is that no single system is "the best" in terms of meeting the criteria for every project. The demands of each radiant heat system are unique. Additionally, a radiant heat system is only as good as its design, and most importantly, its installation. Without detailed design services and proper installation, the best radiant heat products will do nothing but leave you cold. Although radiant heat systems are not difficult to install, there are some basic rules that must be followed to ensure that the system performs as intended.
Don't purchase anything until you've done all your homework. That includes making sure that you'll be provided a system layout / design drawing with all the technical information and requirements of the system. A reputable radiant heat provider will have professional designers and electrical experts on hand to evaluate your radiant heating system from top to bottom. The price of the radiant heat system should include complete system layout with all the necessary technical information. You'll want to work with a provider that includes all the information necessary with their system designs. The specs should not only include the proper layout and materials, but the proper load calculations, breaker sizes, number of breakers, and the required system components. That way you'll know all the electrical requirements, technical specs and system performance expectations before any installation takes place.
This valuable service minimizes "installation surprises" that you may otherwise encounter, which ultimately saves you time and money in the long run. So if you're shopping around and evaluating your radiant heat options, make sure you compare product price, quality (warranties), experience, and services offered. This will weed out many of the "pretenders" who claim to have all the radiant heat solutions you need.
Call unbiased radiant heat professionals and speak with them about your project - and make sure you ask questions. Afterwards you should be able to make an informed decision that will pay off in the years to come.
To learn more, call a radiant heat expert at 888.488.9276.